Ways To Give
Memorial Donations
Memorial donations are a meaningful way to honor the memory of someone who touched your life in a special way. Often, families specify memorial donations be made to Hospice of Siouxland. 
Honorary Gifts
Honorary gifts are a great way to make a donation in honor of someone special to you. It is a thoughtful way to observe a birthday, anniversary, holiday or other special occasion. 
Cash Contributions
Mail: Send check or money order to Hospice of Siouxland, 309 Cook St., Sioux City, IA 51103.
Electronically: Regular donations can be made electronically directly from your bank on a monthly basis.
Online: Recurring and one-time donations can be made by clicking here.
By phone: Call 712-233-4144 or 800-383-4545 to make a donation by credit card
Matching Gifts
Many companies offer a matching gifts program. When you donate to a not-for-profit organization such as Hospice of Siouxland, some employers offer a matching contribution. Check with your employer – it's a great way to increase your gift.
Corporate and Service Group Sponsors
Companies and service groups may designate Hospice as the organization they wish to support for a specific period of time. Some have designated a percentage of their sales for a specific day or for a specific promotion. There are many possibilities for companies and service groups to become involved in Hospice of Siouxland.
Gifts of Stock and Bonds
Donating appreciated securities, including stocks or bonds, is an easy and tax-effective way for you to make a gift to our organization. 
Gifts of Real Estate:
Donating appreciated real estate, such as a home, vacation property, undeveloped land, farmland, ranch or commercial property can make a great gift to our organization.
Gifts of Grain:
A famer can request to donate current or previous years' harvests.  This is a simple way to make a lasting difference to our patients and their loved ones.
Gifts of Retirement Assets: 
Donating part or all of your unused retirement assets such as a gift from your IRA, 401(k), 403(b), pension or other tax-deferred plan is an excellent way to make a gift to our organization.
Gifts of Insurance:
A gift of your life insurance policy is an excellent way to make a gift to charity. If you have a life insurance policy that has outlasted its original purpose, consider making a gift of your insurance policy. For example, you may have purchased a policy to provide for minor children and they are now financially independent adults.
Planned Giving:
Planned gifts are a way to designate a gift that is not actually received by Hospice of Siouxland until after your death. A planned gift is often made through a will, but can also be made in other ways, such as through a life insurance policy, an annuity or through other financial tools.
---
How To Give
Giving to Hospice of Siouxland can be done either directly or through a gift model including:
Bequest
A bequest is one of the easiest gifts to make. With the help of an attorney, you can include language in your will or trust specifying a gift to be made to Hospice of Siouxland as part of your estate plan, or you can make a bequest using a beneficiary designation form.
 
Benefits:
Receive an estate tax charitable deduction
Reduce the burden of taxes on your family
Leave a lasting legacy
Types:
Include a bequest Hospice of Siouxland in your will or revocable trust
Designate Hospice of Siouxland as a full, partial or contingent beneficiary of your retirement account (IRA, 401(k), 403(b) or pension)
Name Hospice of Siouxland as a beneficiary of your life insurance policy
Ways to Bequest: (click each type for basic bequest language to assist you and your attorney)
---
IRA Rollover
Congress enacted a permanent extension of the IRA Charitable Rollover. If you are 70½ or older you may also be interested in a way to lower the income and taxes from your IRA withdrawals. To make an IRA charitable rollover, contact your IRA plan administrator.
Benefits:
Avoid taxes on transfers of up to $100,000 from your IRA to our organization;
Satisfy your required minimum distribution (RMD) for the year;
Reduce your taxable income, even if you do not itemize deductions;
Make a gift that is not subject to the deduction limits on charitable gifts;
Help further the work and mission of our organization
---
Beneficiary Designation Gifts
A beneficiary designation gift is a simple and affordable way to make a gift to support Hospice of Siouxland. You can designate us as a beneficiary of a retirement, investment or bank account or your life insurance policy. To make your gift, contact the person who helps you with your account or insurance policy, such as your broker, banker or insurance agent.
Benefits:
Continue to use your account as long as you need to;
Simplify your planning and avoid expensive legal fees;
Reduce the burden of taxes on your family;
Receive an estate tax charitable deduction
---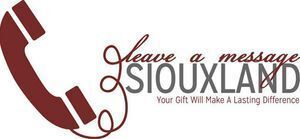 Hospice of Siouxland is a proud Partner Organization of Leave A Message Siouxland, a collaborative local donor awareness campaign about planned giving and its positive effect on local non-profit organizations.